Dance your way to fitness and good health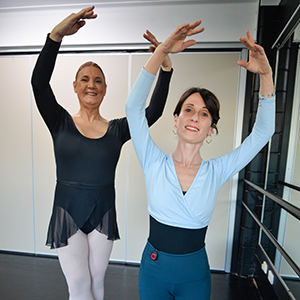 Fun dance classes at Loganholme are among more than 100 free or low-cost physical activity, health and wellbeing programs on offer in the City of Logan.
Luna Brentegani, from Rochedale South, and Roz Dickson, from Cornubia, are students at Gerrard's Performing Arts Centre.
They participate in classes through the Active and Healthy program (formerly Live Well Logan).
Roz said she took her first ballet class in 2015 when she turned 50 and has not looked back.
"It was my childhood goal, but I couldn't access it," she said.
Roz said the Active and Healthy program provided her with the chance to attend wonderful, economical dance classes.
Today, she spends three days a week dancing at Gerrard's as well as practising on the sprung dance floor she has laid at home.
Roz said that since transitioning genders in 2012 she wants to keep dancing for the rest of her life to ensure she stays fit and healthy.
Luna said dancing was a passion and she wanted to get back to taking classes as she also had to stop taking them when she was younger.
She was driving past about a year ago when she saw the dance studio's sign and then became involved with the Active and Healthy program.
Luna moved to Australia 12 years ago from her native Italy and found dance to be a way to connect with others.
She said it was great to find other people with the same passion for dancing.
"You get to meet like-minded people and find your comfort zone," she said.
The City of Logan's Active and Healthy program includes cooking and nutrition, environment, fitness and sports, gentle movement and wellbeing classes.
The classes are suitable for everyone, regardless of age, gender, mobility or work schedule.
In the last financial year, 47 service providers delivered more than 120 weekly and one-off activities which were attended by 7126 participants.
City Lifestyle Chair, Councillor Laurie Koranski, encourages anyone keen to look after their physical and mental health to explore the comprehensive programs on offer.
"It's never been easier to swim, dance or stretch your way to a healthier you with our Active and Healthy program," Cr Koranski said.
"Activities run throughout the year and cover a range of topics and interests."
The program booklet and registration forms can be downloaded from logan.qld.gov.au/healthy