Delicious beer-friendly Italian dishes await at Pilot Project Brewing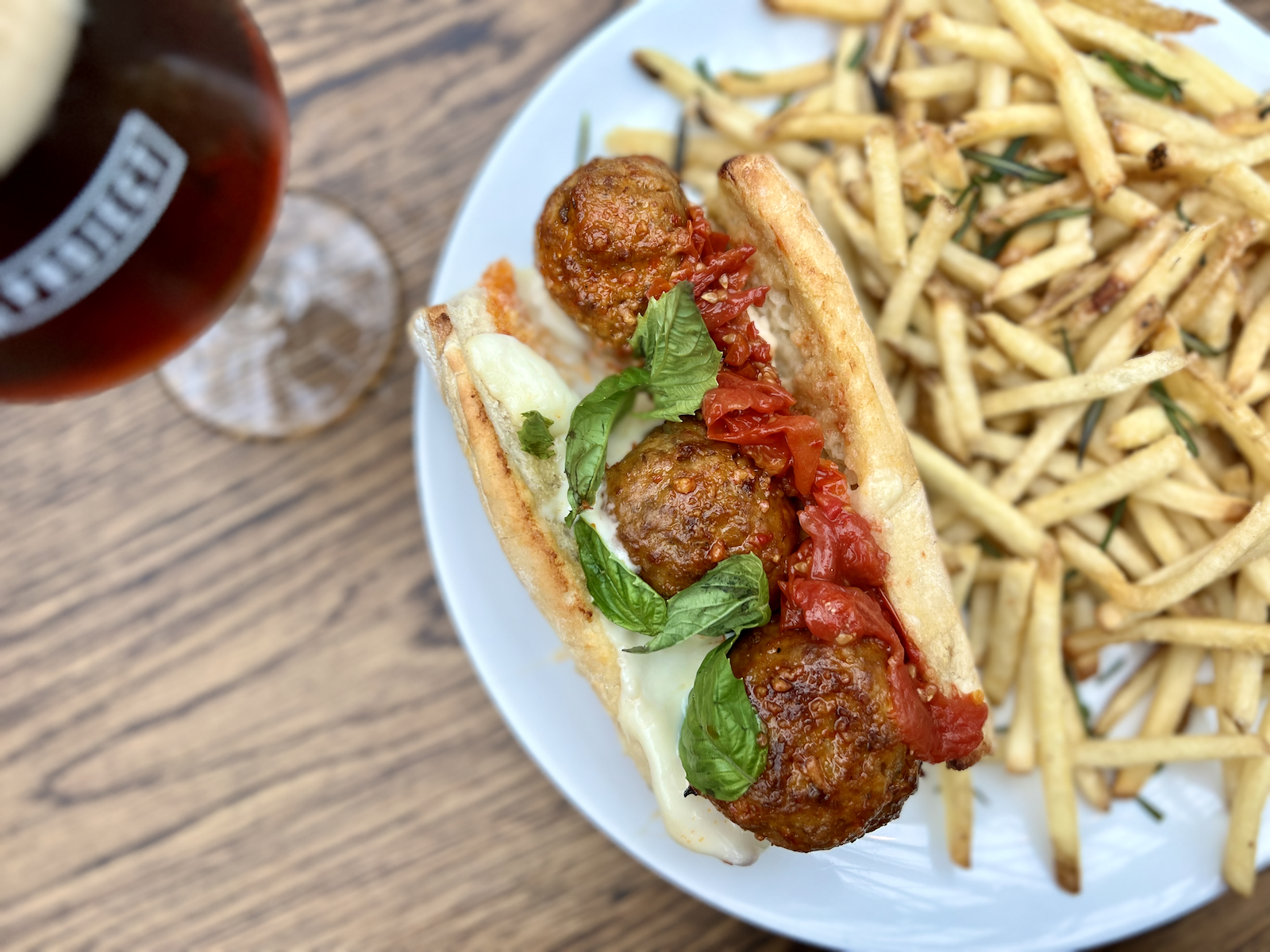 Step inside the Pilot Project Brewing space at 1128 N. 9th St. and you'll find a stunning beer hall with towering glass ceilings, sturdy communal tables with bench-style seating and a living wall, which warms up the bright expanse.
It's a beautiful spot to gather with friends for drinking, but it also promises to be a worthy addition to the dining scene with its menu of Italian-inspired, beer-worthy fare.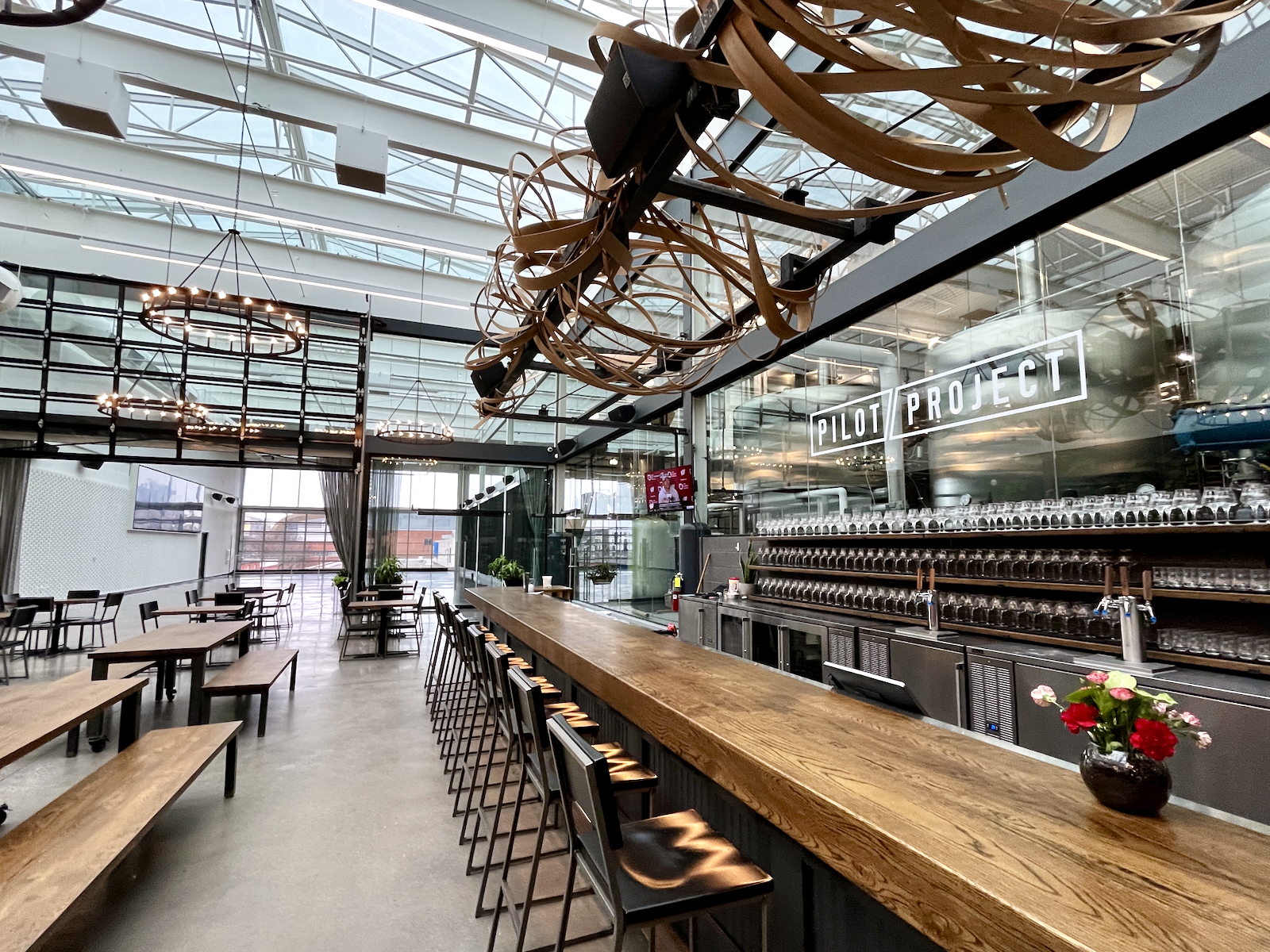 Thanks to Pilot Project's unique business model, which functions as an incubator for aspiring brewers, their tap room functions as a true tasting room, where new beer is put to the test and marketed (or not) based on public response.
As a result, you'll find a unique selection of offerings that runs the gamut from fruit-forward hard kombuchas to hazy IPAs, sours, lagers, ambers and stouts. Some are classic representations of the style, while others are just plain unique. So it's a great place to order up a flight to zero in on palate-worthy options.  
Flights include four 4-ounce pours for $14.50. But guests can also  redeem their flight cards to receive 10% off to-go product or merchandise.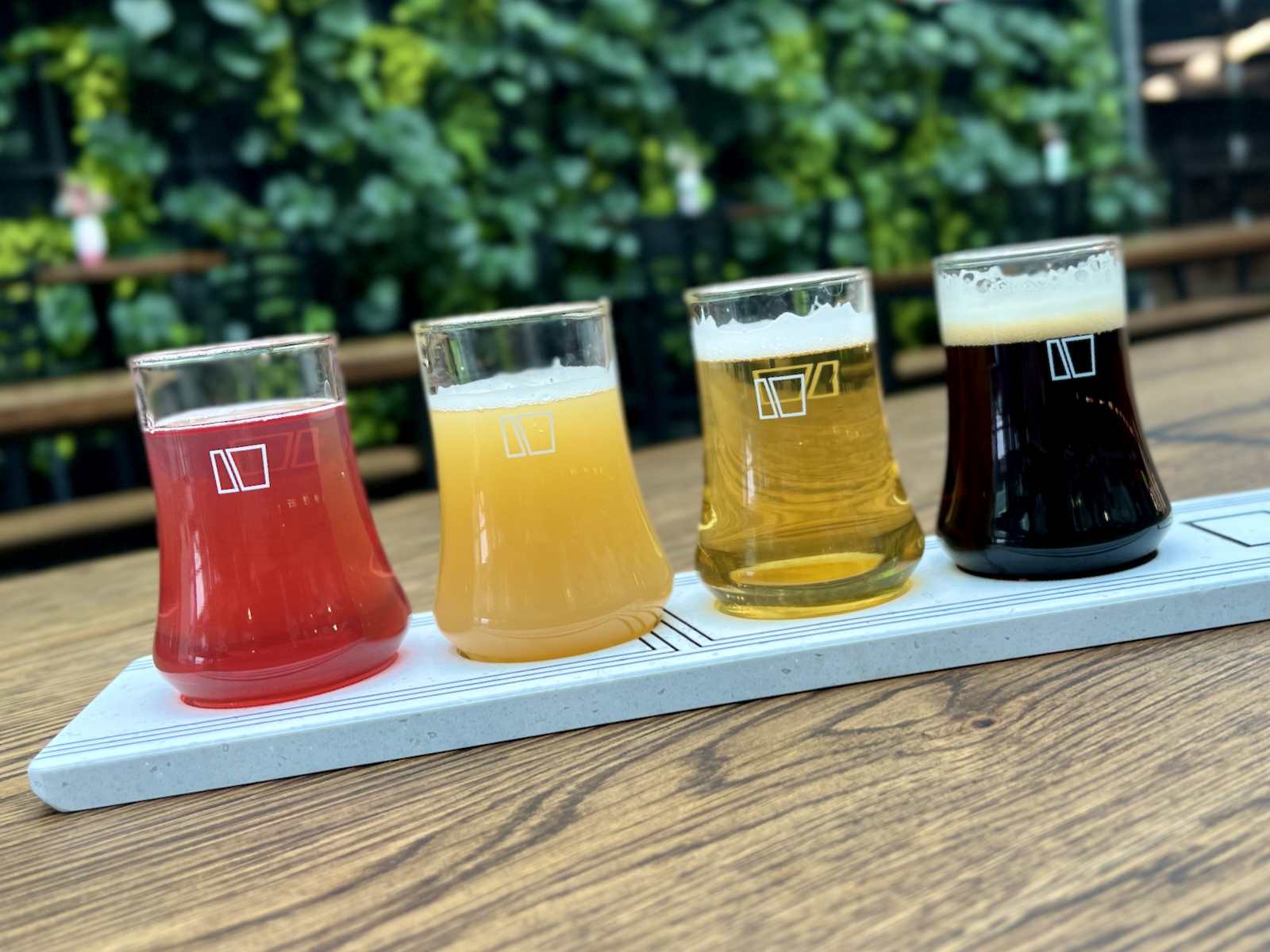 Pictured (left to right): ROVM Blackberry Lime Hard Kombucha; Azadi Brewing Manali Hazy IPA; Brewer's Kitchen Copitas Mezcal-Margarita inspired Gose; and Brewer's Kitchen Tolo Noche Dark Mexican Lager
Since food goes hand in hand with drinking beer, Pilot Brewing has also partnered up with Chef Tony Quartaro's Gemma Foods to offer a menu of memorable Italian-inspired dishes that compliment the beer that's being brewed.
"I've been friends with Tony for years," notes Dan Abel, co-founder of Pilot Project. "So it made sense that eventually we'd partner on a project like this."
Quartaro's career showcases a history of work with hip, trendy (mostly fine-dining) restaurants across the country. But he took a different path with Gemma Foods, a pandemic-inspired business which offered delivery and pick-up of fresh pastas and sauces to enjoy at home.
Both are reflected in his bespoke menu for Pilot Project, which presents Italian dishes that play well with beer. The menu is fun. It's casual. And it's affordable. But every dish is presented with a twist that belies Quartaro's fine dining background along with the experience of industry veteran and chef de cuisine Mark Sublewski.
"Ultimately we wanted something approachable like The Meatball Shop in New York," says Abel "… a place where people could come and eat multiple times a week. And I think Tony has accomplished that with a menu that will evolve over time along with our beer selection."
The menu features plenty of shareables from snacks like smoked trout deviled eggs and exceptional French fries made from Kennebec potatoes and seasoned with fried rosemary and sea salt (served with a side of garlic aioli). But you'll also find oh-so-Wisconsin snacks like deep fried cheese curds.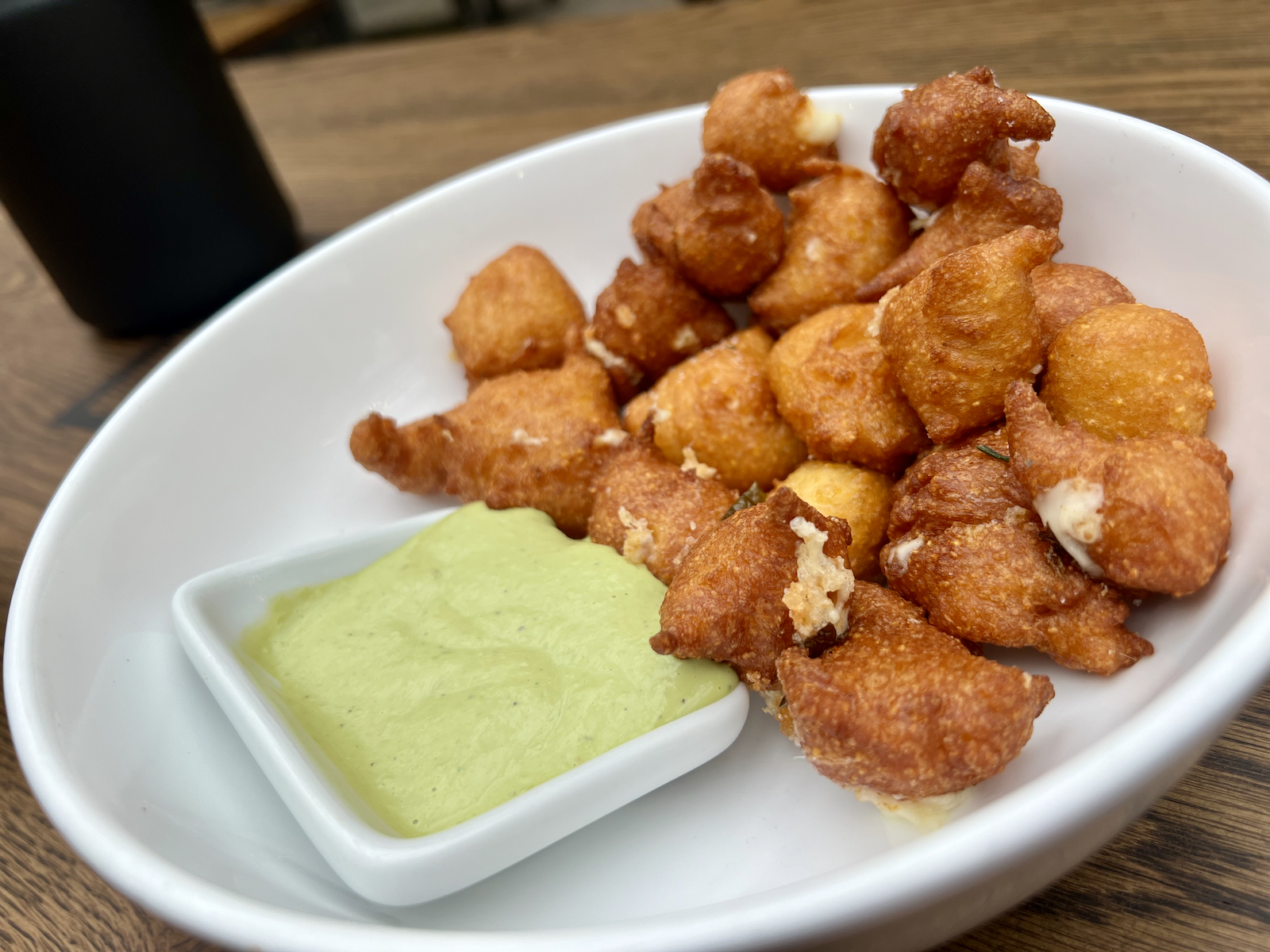 Of course, these aren't just any curds. Enrobed in a polenta-based batter, the creamy Italian-inflected curds take on an entirely different character from the usual. They're served with a simple riff on ranch dressing made with buttermilk, chives and garlic ($12).
"At its core, this menu features good, honest, scratch made food that's made with local ingredients," says Sublewski, noting that the cheese curds are sourced from Clock Shadow Creamery in Walker's Point.
Guests will also find starters like meaty pork spare ribs, which have been marinated in house five-spice blend and then baked with a honey vinegar glaze. They're slightly sweet with plenty of umami flavor, thanks to a whiff of fish sauce. Meanwhile the herbal notes in the honey salsa verde keep things fresh ($15).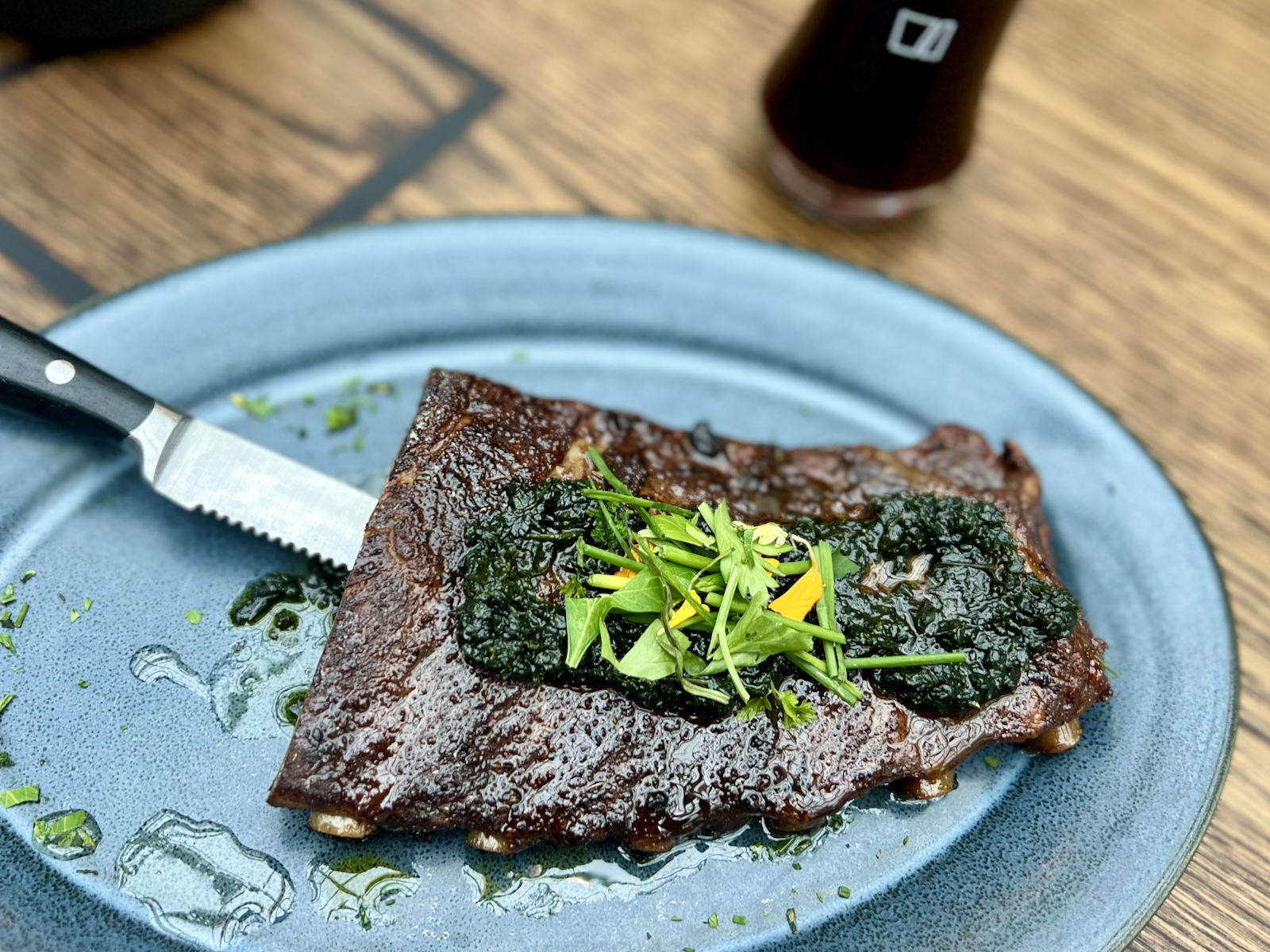 Substantial housemade flatbreads make for either an entree or shareable snack. They feature housemade dough topped with ingredients like housemade porchetta roasted with garlic, rosemary, lemon and fennel; poblano mascarpone cheese, green chile salsa verde and crispy pork skins ($17) or kabocha squash puree, La Clare goat cheese, chile-garlic-rosemary oil and crispy fried kale (pictured, $17).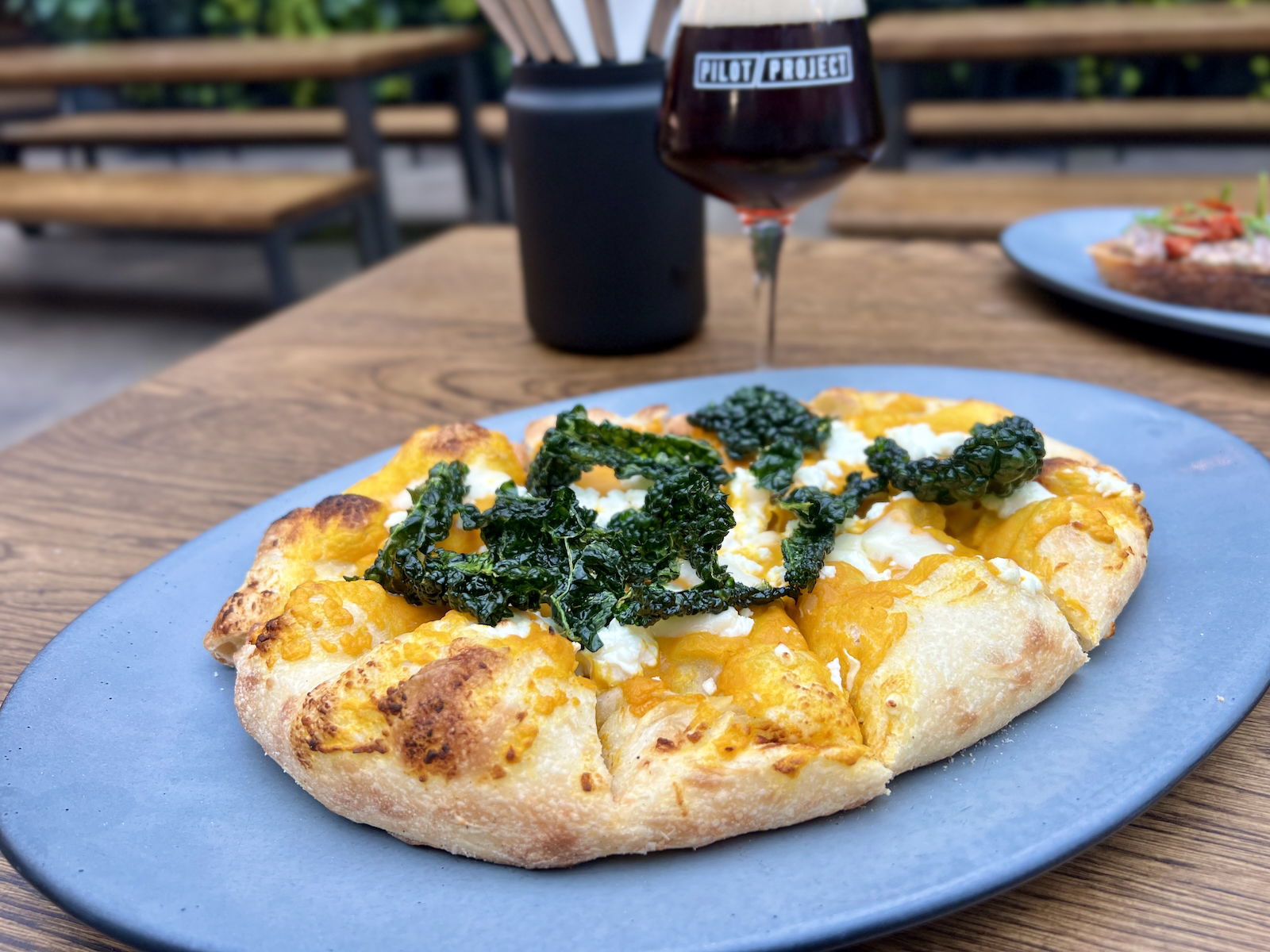 Fans of tartare will also find a worthy option in the form of Pilot Project's Wagyu Tartare Toast, which boasts seasoned hand-cut Wagyu coulotte steak, a meaty cut from the top sirloin cap, topped with semi-dried tomato, steelhead trout roe and chives on toasted Rocket Baby sourdough ($16).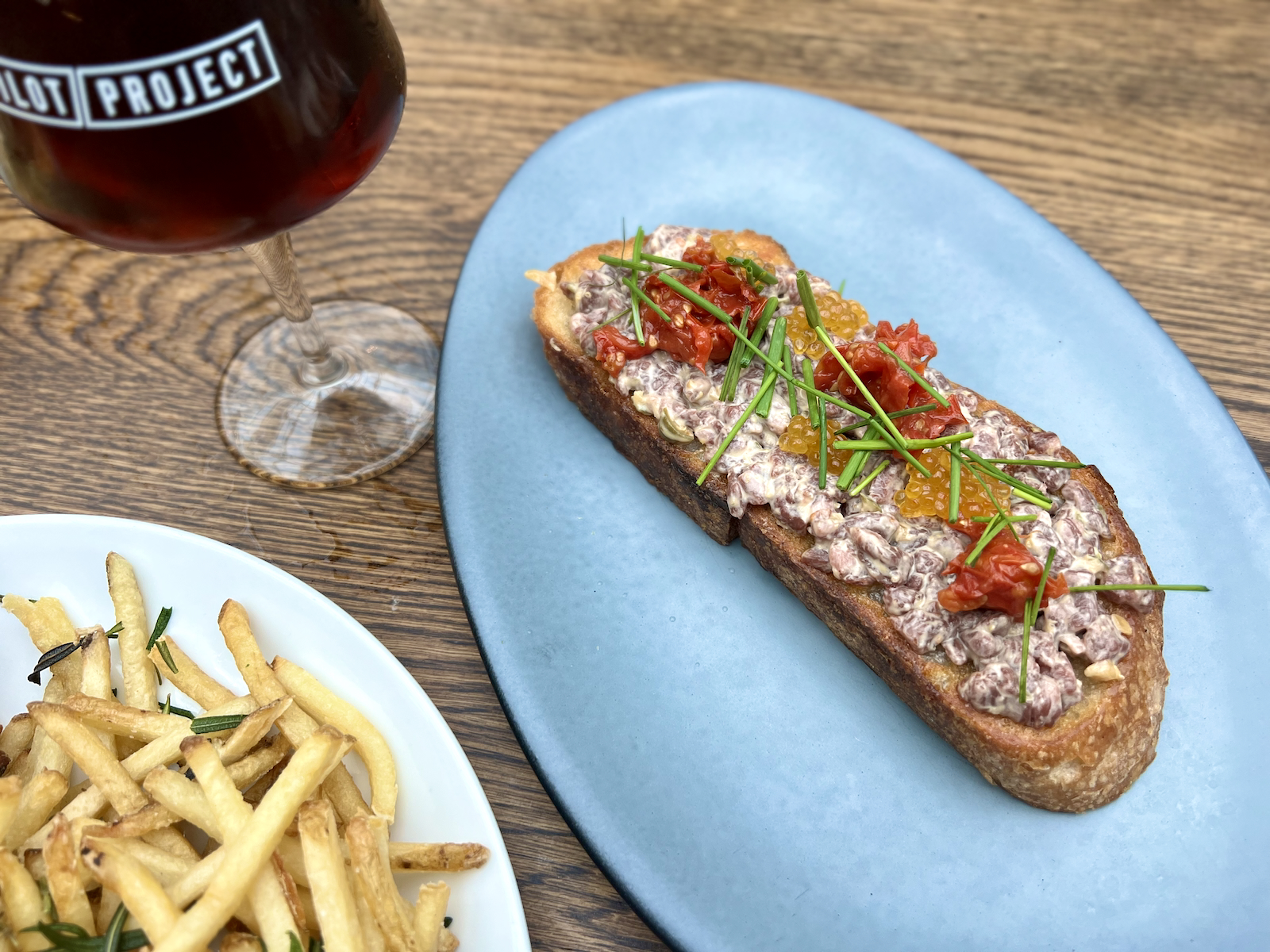 Diners will also find dishes like burrata and brussels, a salad that eats more like a cheese course featuring a ball of ultra-creamy DiStefano burrata accompanied by crispy brussels sprouts leaves, fennel, bright slices of apple, elderflowers and a nutty hazelnut relish ($15).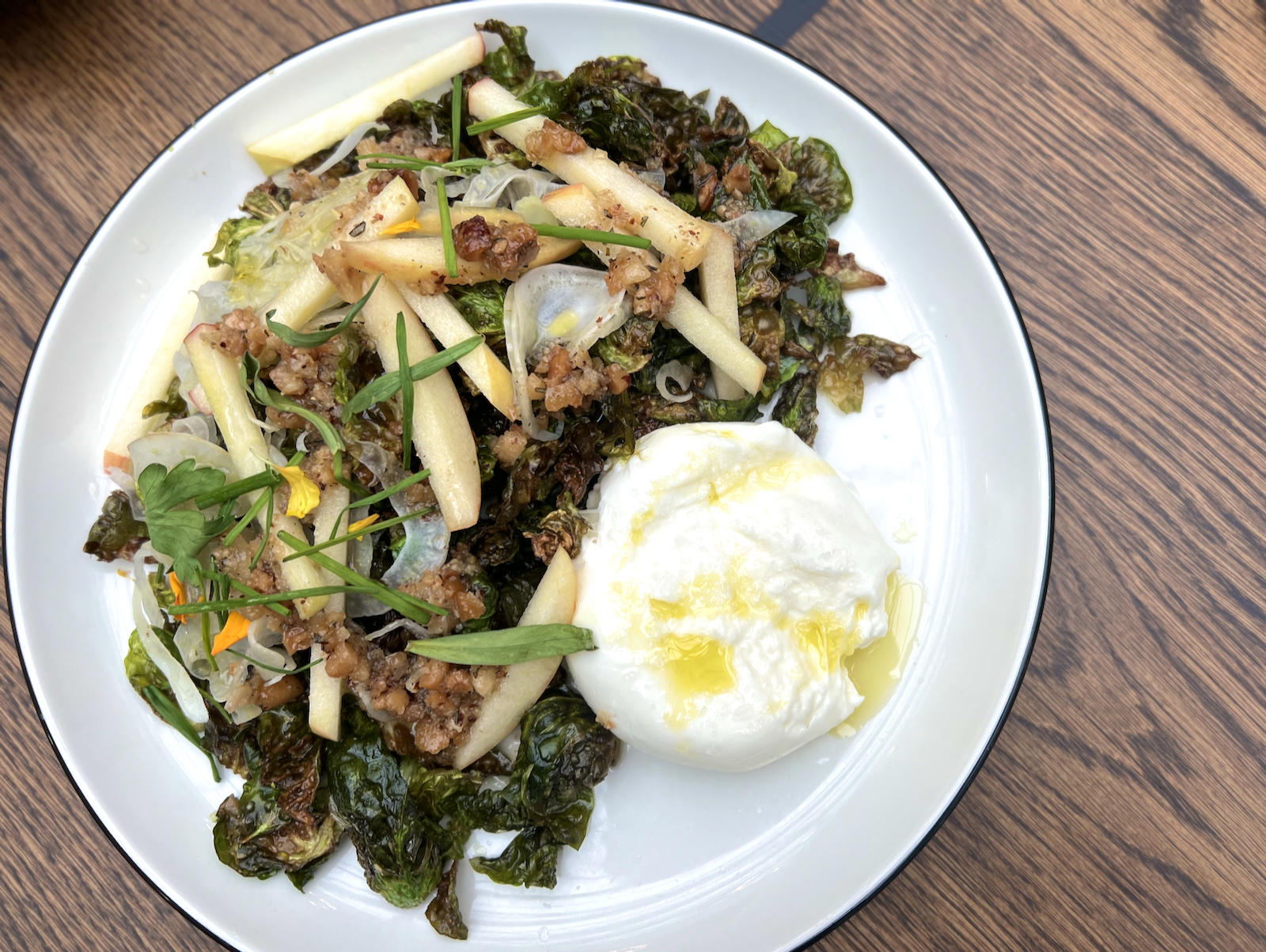 Prefer an actual salad? There's also a gem lettuce and kale Caesar salad ($13) or a chiogga beet and avocado salad with bacon and lemon poppy seed dressing ($14).
Sandwiches, which hit both familiar and inventive notes, are substantial and come with hefty portions of rosemary fries. Highlights include their chicken parmesan sandwich, which is served up on soft garlic butter ciabatta.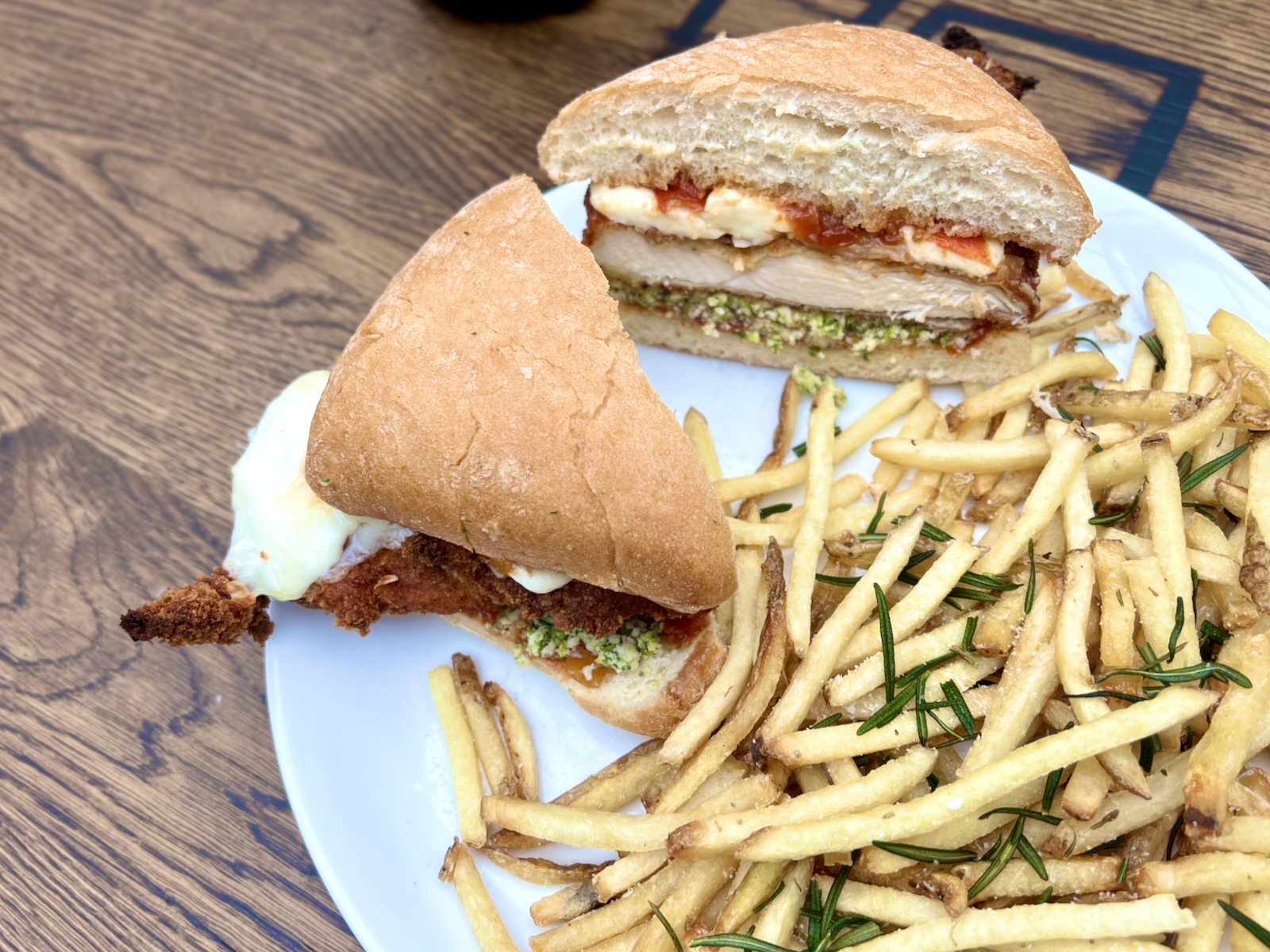 It features classic Italian breaded fried chicken, a tangy tomato chutney (in place of marinara) and plenty of melted Clock Shadow Asiago and Farmerette fresh mozzarella. But it also gets a hefty flavor pop from a layer of grilled broccolini pesto ($18).
Of course, there's also the "famous" meatball sub, which you'll want to put on your "to try" list.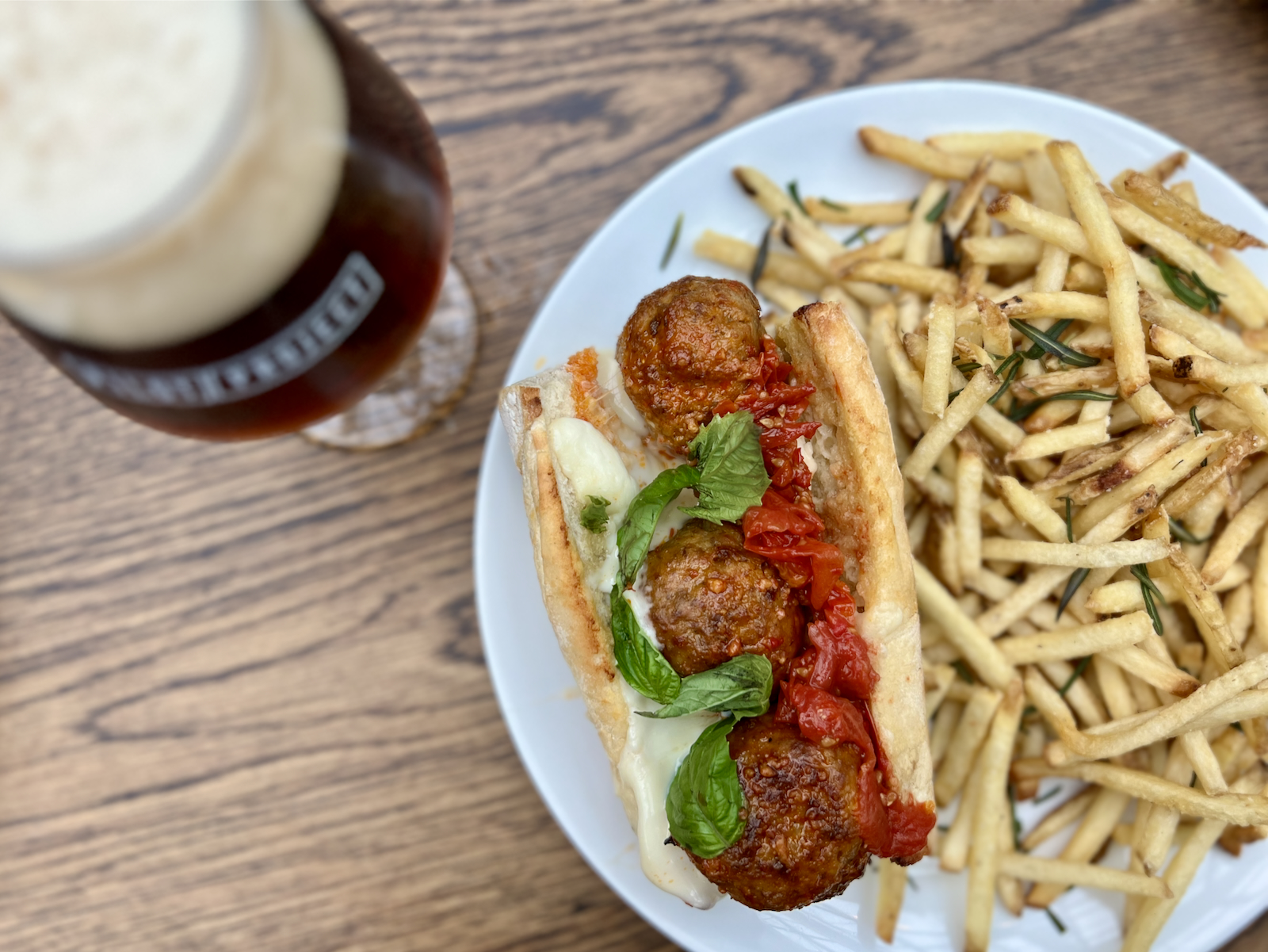 It features Quartaro's grandmothers recipe for tender braised beef and pork meatballs served up on a garlic buttered baguette with red and green chile sauce, melted Crescenza cheese and fresh basil ($18).
And yes, there's pasta. You'll find housemade ricotta gnocchi served "dumpling style" with creamy mushroom ragu, crispy chicken skin, parmesan cheese and fried shallots ($17); and housemade mafaldine (long ribbon pasta) with lamb sausage ragu, Crescenza cheese and herbs ($17).
You can view the full menu online. But, a better idea would be to head to Pilot Project and taste it for yourself.
Pilot Project is open for lunch and dinner with hours Monday through Thursday from 11 a.m. to 10 p.m., Friday and Saturday from 11 a.m. to midnight and Sunday from 11 a.m. to 8 p.m.