DeSantis, Florida and a new partisan era of American education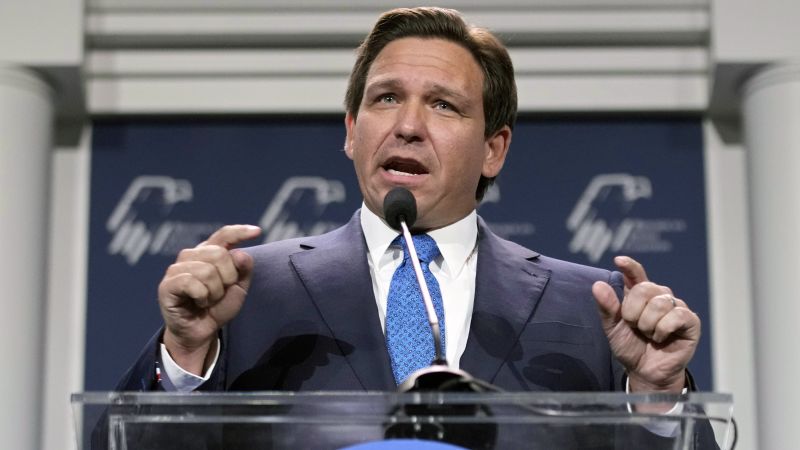 A version of this story appears in CNN's What Matters newsletter. To get it in your inbox, sign up for free here.


CNN
 — 

Florida Gov. Ron DeSantis says he's protecting kids from indoctrination and political agendas, but the zeal with which he has pushed expansive efforts to remake the Florida education system also represents an effort to influence young minds.
However you view DeSantis' motivations, he is getting results.
The College Board, the nonprofit organization that oversees the Advanced Placement program offered across high schools, said it would change a new AP African American studies course that DeSantis said violated a state law to restrict certain lessons about race in schools.
His state's Department of Education complained the college-level course mentioned Black queer theory and the idea of intersectionality. Read more about why Florida rejected the course.
"Governor DeSantis, are you really trying to lead us into an era akin to communism that provides censorship of free thoughts?" the civil rights lawyer Ben Crump said at a press conference on Wednesday in Florida, where he announced he would sue DeSantis on behalf of three high school students if DeSantis would not negotiate with the College Board about the AP course.
DeSantis recently demanded a list of names of staff and programs related to diversity at public colleges and universities, part of a crackdown on "trendy ideology."
Separately, he wants details on students who sought gender dysphoria treatment at state universities.
DeSantis also wants to remake the New College of Florida, a small, public liberal arts school, as a sort of "Hillsdale of the South," according to Florida Education Commissioner Manny Diaz.
Hillsdale, as USA Today points out, is a private, conservative Christian college in Michigan.
A new DeSantis appointee to the New College of Florida board of trustees has clashed with board officials over his request to open every meeting with a prayer.
Republicans across the country are focused on education. They want to guard against anything perceived as pushing equity rather than merit.
Virginia's governor sees a conspiracy in how school districts recognize distinction in a scholarship program based on scores on the PSAT.
The state attorney general has launched a discrimination investigation into whether the Fairfax County Public Schools system – including Thomas Jefferson High School for Science and Technology, a nationally recognized Virginia magnet school – discriminated against students by not informing them of recognition under the National Merit Scholarship program.
The students qualified for recognition but did not advance in the competition for a scholarship.
Virginia Republican Gov. Glenn Youngkin, according to CNN's report, claimed these revelations were a result of the "maniacal focus on equal outcomes for all students at all costs."
"The failure of numerous Fairfax County schools to inform students of their national merit awards could serve as a Virginia human rights violation," the governor's office said in a previous statement provided to CNN.
Fairfax County Public Schools superintendent Michelle Reid told CNN the recognitions should have come earlier, but cited a lack of a "division-wide protocol" rather than any kind of mania about equity. Read more about the controversy.
Texas officials also have their eyes on the state's colleges and universities, according to CNN's Eric Bradner.
"Our public professors are accountable to the taxpayer because you pay their salary," said Lt. Gov. Dan Patrick in an inauguration speech. Bradner notes Patrick has pushed to end tenure at Texas public colleges and universities.
"I don't want teachers in our colleges saying, 'America is evil and capitalism is bad and socialism is better,'" he said. "And if that means some of those professors that want to teach that don't come to Texas, I'm OK with that." Read Bradner's full report.
Meanwhile, in South Dakota, lawmakers are looking to develop a social studies curriculum based on "American exceptionalism," propelled by the governor's desire to put more patriotism in the classroom.
The focus by Republican politicians on issues of race in colleges and the classroom is mirrored by the potential for a court-mandated turnaround in how American students are viewed for admissions.
The Supreme Court heard arguments in October in two separate cases regarding affirmative action and seems poised to say colleges and universities cannot consider race in admissions.
Nine states have already outlawed affirmative action for public universities. Voters in California were the first to do so, and the end result was falling enrollment, in particular among Black students at top public schools in the University of California system and at the University of Michigan. Those states both encouraged the Supreme Court not to outlaw affirmative action.
Florida, which also ended the practice, encouraged the court to throw affirmative action out.

Education was a major focus for Republicans in the recent election. While it clearly worked for DeSantis in Florida and a year earlier for Youngkin in Virginia, the mixed results for Republicans writ large may call the strategy into question as the 2024 election looms.
I read on the education news website Chalkbeat about a new study that predicts more politics in the classroom as Americans increasingly sort themselves by political ideology.
In the working paper, David Houston, an education policy professor at George Mason University, argues that previous debates over desegregation, prayer and sex education in public schools were divisive but not inherently partisan.
He points to the moderate positions of previous presidents as proof. Then-President George W. Bush worked with then-Democratic Sen. Edward Kennedy on education reform in 2001. Former President Barack Obama was praised by Republicans in 2012 for his work on education.
Those stories feel like they're from a different universe when today's Republican governors are looking to root out liberal extremism in schools.
Houston argues in his study, which is based on survey data, that the US may be on the cusp of a new and divisive era with "heightened partisan animosity across all aspects of education politics."