Evergreen Kitchen is bursting with flavorful vegetarian recipes | Food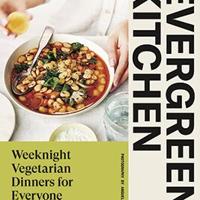 Bri Beaudoin's Evergreen Kitchen: Weeknight Vegetarian Dinners for Everyone (2022, www.penguinrandomhouse.ca) is bursting with beautiful, flavorful recipes — that just so happen to be vegetarian. 
Creator of the blog Evergreen Kitchen, Beaudoin's recipes provide much-needed inspiration for delicious weeknight mains and a sprinkling of simple, yet scrumptious, desserts for those who like to end their meal with something sweet.
Whether you want to cook a vegetarian meal one night a week — or every night — Evergreen Kitchen is packed with over 110 recipes to make it happen with dishes that satisfy the heartiest of appetites. 
Veggie Skillet Pot Pie
This dish is the ultimate comfort food. It's a stick-to-your-ribs meal that won't leave you needing to take a nap afterwards. The base is made with potatoes, carrots, mushrooms, and green peas coated in a delicious gravy. We even sneak some beans in for extra protein.
Everything gets topped with a shatteringly crisp golden-brown pastry. Store-bought puff pastry saves the work of fussing around with a traditional crust. Better yet, this entire dish comes together in a single pan, which can also be brought directly to the table. 
2 tablespoons grapeseed oil, divided
1 yellow onion, finely chopped (2 cups)
1-1/2 cups peeled and diced carrots
8 ounces cremini mushrooms, quartered
4 garlic cloves, minced
1/4 cup all-purpose flour
3-1/2 cups vegetable stock
3 cups russet potatoes cut into 1/2-inch cubes
1 tablespoon fresh thyme leaves
1-1/4 teaspoons fine sea salt
1/2 teaspoon freshly ground black pepper
One 14-ounce can navy beans, drained and rinsed
1 cup frozen green peas
1/4 cup chopped fresh chives
1 pound frozen puff pastry (2 sheets), defrosted in fridge overnight
1. Preheat the oven: Place an oven rack in the centre position and preheat to 400°F. Line a large baking sheet with parchment paper.
2. Sauté the vegetables: In a 12-inch oven-safe skillet, heat 1 tablespoon of the grapeseed oil over medium-high heat. Add the onion and sauté, stirring frequently, until golden brown around the edges, 3-5 minutes.
Add the carrots and mushrooms and sauté, stirring occasionally, until the mushrooms are lightly browned, 3 to 4 minutes. Add the garlic and sauté, stirring constantly, until fragrant, 1-2 minutes.
3. Simmer the filling: To the skillet, add the remaining 1 tablespoon grapeseed oil and the flour, and toss to coat.
Add the vegetable stock, stirring to incorporate the flour until no clumps remain. Add the potatoes, thyme, salt, and pepper.
Bring to a boil, then reduce the heat to medium and simmer, stirring frequently, until the potatoes are fork-tender, about 15 minutes.
Stir in the navy beans, peas, and chives. Remove from the heat.
4. Meanwhile, prep the puff pastry: Unroll a pastry sheet onto a lightly floured work surface. Using a rolling pin, gently smooth out any creases.
Cut the pastry into nine 3-inch (8 cm) squares. Repeat with the other pastry sheet.
Transfer the pastry squares to the prepared baking sheet and freeze for 10 minutes.
5. Assemble and bake: Layer the chilled pastry squares, slightly overlapping, over the filling in the skillet (you may have some squares left over).
Transfer the skillet to the oven and bake until the puff pastry is golden brown, about 30 minutes.
 Serves six.
VEGAN
Use a vegan puff pastry. Many of the inexpensive big brands are vegan-friendly because they use vegetable oils instead of butter. Just be sure to read the ingredient label.
TIPS
• ou can also use a block of puff pastry (rather than sheets), but you'll need to roll it out until it is 1/4-inch thick. Transfer to a parchment-lined baking sheet and chill in the fridge for at least 15 minutes before cutting as directed.
• hilling the puff pastry and letting it rest will help minimize shrinkage in the oven.
• here are many ways to use extra puff pastry. Make a cobbler by layering squares over a fruit filling. Or brush them with melted butter, sprinkle with cinnamon sugar, and bake. Or take them on a savoury route: brush with melted butter and sprinkle with grated cheese and black pepper before baking.