Everything A Fashionable Real Estate Agent Wears In A Week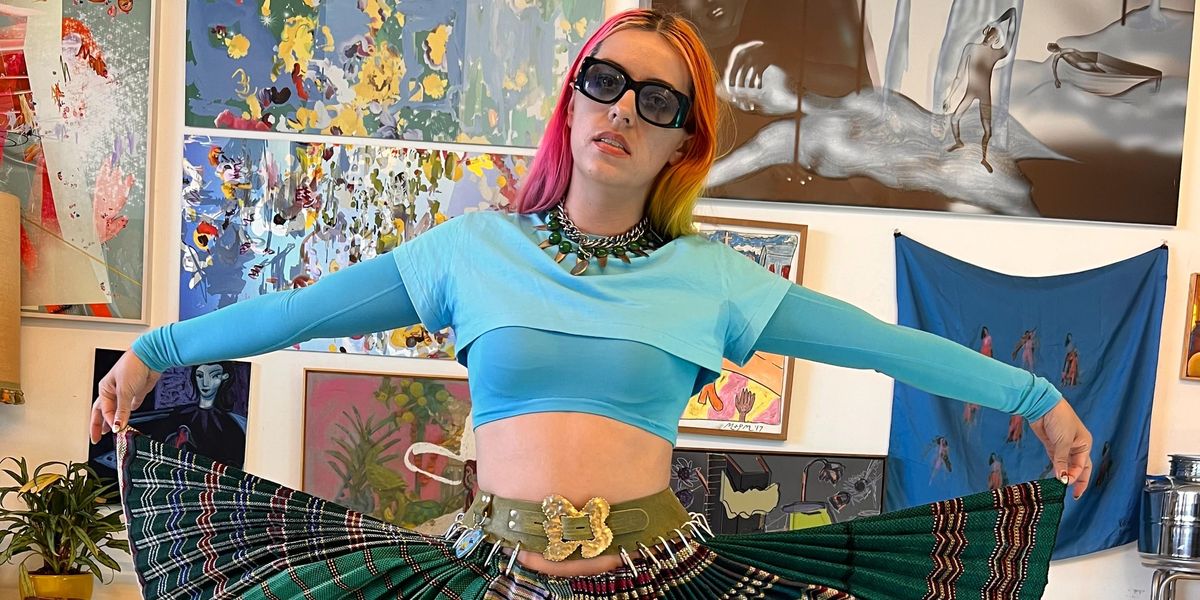 Welcome to Style Diaries, a series where we research the physical manifestations of our closet tours IRL. We're asking friends and tastemakers to show us what they're *actually* wearing during the week and to provide a little insight into their thoughts on the current state of fashion. This week, we follow Nicole Reber, a real estate agent based in Los Angeles with a penchant for absurdist fashions. By dressing head-to-toe in brands like Jacquemus and Batsheva, Reber knows she will always stand out, a notion beneficial to her personal preferences and, surprisingly, her career.
Look 1: A Bachelorette Party (Her Own)
Jacket, Top, and Pants: Jean Paul Gaultier x Lotta Volkova; Bag: Cult Gaia; Shoes: Steve Madden;
Photos: Courtesy of Sarah Reber
"The theme of the party was Madonna, so everyone had to dress in a different Madonna iconic look. This, I already had—I've been wearing it all summer. I wore it to a pre-wedding reception. I wore it to a Strokes concert. So it's already gotten quite a bit of use. Similarly to how I was talking about the OG Jacquemus, when I saw the Jean Paul Gaultier/Lotta Volkova collab, I bought everything from that collection because it was fire. It was crazy. I'm not just chilling on Net-A-Porter every day, but it was just like boom, I have visions for this. So yeah, love the cone bra, and it's such a hit to go out in. So that whole look was a lot of Volkova for Jean Paul with that little mini blazer and then the pants. I literally bought those shoes that day at the museum store. They were Steve Madden. I couldn't believe it. You just don't really see fully rhinestoned shoes that often."
Look 2: Post-Party Brunch and An Open House
Dress: Jacquemus x Nike; Shoes: Steve Madden; Glasses: Cutler and Gross;
Photos: Courtesy of Courtesy of Nicole Reber
"This was the post-party brunch and I was going to an open house afterwards. Oftentimes I'm hanging out with friends, but maybe I need to go see a client and be a little bit dressed up enough that I can go do my job later in the afternoon. [This outfit is] the Jacquemus/Nike collab, and then the Steve Madden shoes again. I only wear glasses from Cutler and Gross. So those are sunglasses from Cutler and Gross, but I made them into day glasses."
Look 3: Running Errands
Top: Jacquemus; Skirt: Chopova Lowena; Necklaces: Vintage and Chopova Lowena; Glasses: Cutler and Gross; Boots: Studio Pollini;
Photos: Courtesy of Nicole Reber
"Jacquemus did these really great, early two thousands, short-sleeve/long-sleeve tops, and then [paired] with Chopova Lowena. That's really a running errands look. I was at my boyfriend's salon and had to go run some errands, grab some paperwork. I love that Chopova skirt so much. That was a really fun, key piece. I waited for the perfect one for quite a while. I'm Polish, so I loved it. I always wanted that Eastern-European look in the skirt. [I wanted to] feel like real Polish girls that went to the ethnic picnics in their traditional dresses or skirts. When I first fell in love with that brand, I was like, 'I can't believe someone is doing punk rock, traditional, eastern-European wear.' That's such an awesome piece. And I've worn it to art fairs. I've worn it to a couple different things. You can tell the quality of the construction and the uniqueness of it just draws people in. But it's also just durable fabric. It's fun and I don't feel like I have to be super precious in it and that I really like."
Look 4: Realtor Meetings
Dress: Batsheva x Laura Ashley; Hat: Ruslan Baginskiy; Shoes: Dior;
Photos: Courtesy of Nicole Reber
"This was me meeting with another realtor who's from out of town, so one of my mentors. We got breakfast at the Beverly Hills Hotel. So this is a business breakfast look, meeting somebody that you only know from online and the phone. You're trying to give your key style but also be sensitive to the fact that you are meeting a stranger. Maybe you don't want to give your most hardcore, gnarly look. I absolutely love [Batsheva] dresses. I think the price point is magnificent, and I think they are really work-appropriate. Like, 'Oh my God it's Sunday, it's 11:00, I have an open house in an hour and I don't want to think about my wardrobe,' I can put on a Batsheva dress and feel really confident. I do like that 'little girl' look. Sometimes if I'm at a big public event where people don't know me, it's nice to wear something that's really G-rated."
Look 5: On the Job
Dress: Lisa Marie Fernandez; Shoes: Saint Laurent via The Realreal;
Photos: Courtesy of Nicole Reber
"That was me filming a tour of a new listing. The dress is Lisa Marie Fernandez—another brand I think is effortless. You're going to feel good, but it's less controversial. This is a really different 'me' than 'errand me' in Chopova Lowena. I like this look because it's me being polished, me being a version of myself that is accessible to a really wide range of people. And also, I'm representing somebody's property, so I have to keep it chill and pretty for them. And then shoes were Saint Laurent—a good RealReal find. I'm a big RealReal girl."
Notes on Style:
How did you become obsessed with fashion, and then why didn't you want to do that as your career path?
"I was really into music in high school. It's so funny, we just saw The Yeah Yeah Yeah's last night. I love them. People like that have so much creativity. I went to an all-girls Catholic school, and I was always creative but it was when I started getting really into bands that [things changed] for me. I was reading the magazines to watch what they wore. Then in my off hours, I was going to vintage stores and finding clothes to look like that."
I went to Pratt and I studied poetry. When I was there I interned at Nylon and then I interned at Vogue, and I considered styling as a career. I applied for a job with Camilla Nickerson. That was the only job I ever applied for and didn't get. It was right out of college and so the economy had just tanked. I just didn't have time to figure out how to break into this industry. And she would have been the coolest person to work with so everything else felt kind of like a consolation so I decided to do my own thing, but I've [always been] a shopper. I love the way of communicating who you are through your clothes. I think it's really interesting."
When you're shopping, what are the pieces that you find yourself gravitating towards?
"I don't buy filler items. If I'm buying something and I don't think it would make me feel like the best-dressed person in the room, I won't buy it. I'm competitive like that. I don't buy just to buy. At 22, I worked at Burberry in New York. I got to go to the sample sales and I got a crazy designer wardrobe out of it. When I didn't have that job anymore, I didn't want to go back to a different quality level, because I was really spoiled. Right around that time was when Jacquemus launched his brand. And it was a price point that was definitely expensive for me, but I just saved and got a couple key pieces. From that, I learned the value of dressing in the language of one brand and how that made you look cohesive. I think that's really influenced the way I shop now. I'm very [aware] of the brands that I'll spend money with so that my closet feels like it is telling a similar story."
Who are your north star brands then?
"Definitely Jacquemus. I have an entire Jacquemus-only closet. So Jacquemus, Jean Paul Gaultier, Maisie Wilen. I'm friends with Maisie. I've known her since I was 21. So I wear a lot of her stuff just to support my friend—and I love it. Chopova [Lowena]. Love their stuff. Batsheva. Things that I can go out in and things that I can get dirty in. I need that combo.
Complimentary to your sense of style, tell me a little bit about your lifestyle. What are you actually getting dressed for on a regular basis?
"I'm a real estate agent so I really shop very geared to that—edgy businesswoman. Fortunately, my job allows me to be creative in the way that I present myself, but it has to be super luxury. People are coming in to spend big money, so you have to have a sense of personal style. When you're meeting with other agents, you can use your style to influence them to remember you, but also to have respect for you. If the look is too casual, then they think they can negotiate against me. Especially since I started in the business when I was 27, I wanted to look more put together, to look a little older, or at least look a little more experienced in life.
"The world probably doesn't think of real estate agents as the most fashion-forward people. What was it like bridging or figuring out how much you could express your personal style in this realm? What was that journey like gaining confidence at work? Maybe gaining confidence in your own ability to push the envelope sartorially?
"So when I got started in the business, it was the summer that the Jacquemus Santon de Provence collection came out. I saw that and was like, 'These are the most beautiful clothes I've ever seen in my life.' Then I was like, 'I think I can go to work in this.' I literally just bought 70% of that collection—charged up some cards. I was like 'This is going to be my mask. This is going to be who I am.' Everything looked so put-together and advanced that nobody would be able to say 'no' to me looking like that.
"About six months into the business, I met my [fiancé] who is a hair colorist. And that was awesome and unique timing because when I probably could have fallen into the pit of censoring myself at a new job, I now had this super creative person in my life. He started dyeing my hair different colors. I was blonde. I had just taken all my head shots. Then literally within two months, I'm fire-truck red. I'd never experienced or experimented with color. So then I got addicted. I knew there was going to be no way for me to do this and come off like anybody else in my business. Luckily, I don't think people need to censor themselves in the workplace as much as they may have thought they had to to move up."
I think a lot of people could obviously deduce the value of being very put together, very polished in your line of work. But what's the value of having a personal flare to what you're wearing?
"For me, it's the conversations that it opens up. My business is as good as the people that I'm meeting and that want to meet me. If I'm wearing a dope outfit and somebody comes up to me and they're giving me a compliment or they're asking me like, 'Oh my God, your outfit is so cool, what do you?' Or 'Do you live around here?" or whatever. All of a sudden, it puts me in an alpha position to receive the nice gesture of a compliment or a positive question, but then also know I'm going to be able to sell myself. 'Oh, I'm in real estate.' Boom. So it's definitely personal branding and marketing, the way that I dress."
What about beauty? How do you experiment in that realm in terms of style?
"My mom has an iconic beauty look. She has never not worn royal blue mascara. Literally, silvery blue eyeshadow and a royal blue mascara. I don't think I understood how unique that was as a child. She's never changed up her makeup look at all, whereas, I'm like, "today I'm going to wear blue. Tomorrow, I'm going to wear pastel. I'm going to do heavy blush.' Maybe that's a backlash to her. But, I love playing with makeup. I love doing heavy eyeshadow, a lot of pastel, a lot of glitter.
"I always played piano as a kid and was an artist so I never had good nails until I moved here. And this girl, Violet Davis, she's awesome. She's been the only person to do my nails for the last five years. She specializes in advanced nail art and she's awesome. Super, super talented. Those are the beauty elements that I like to have fun with."