Sports news in brief | RNZ News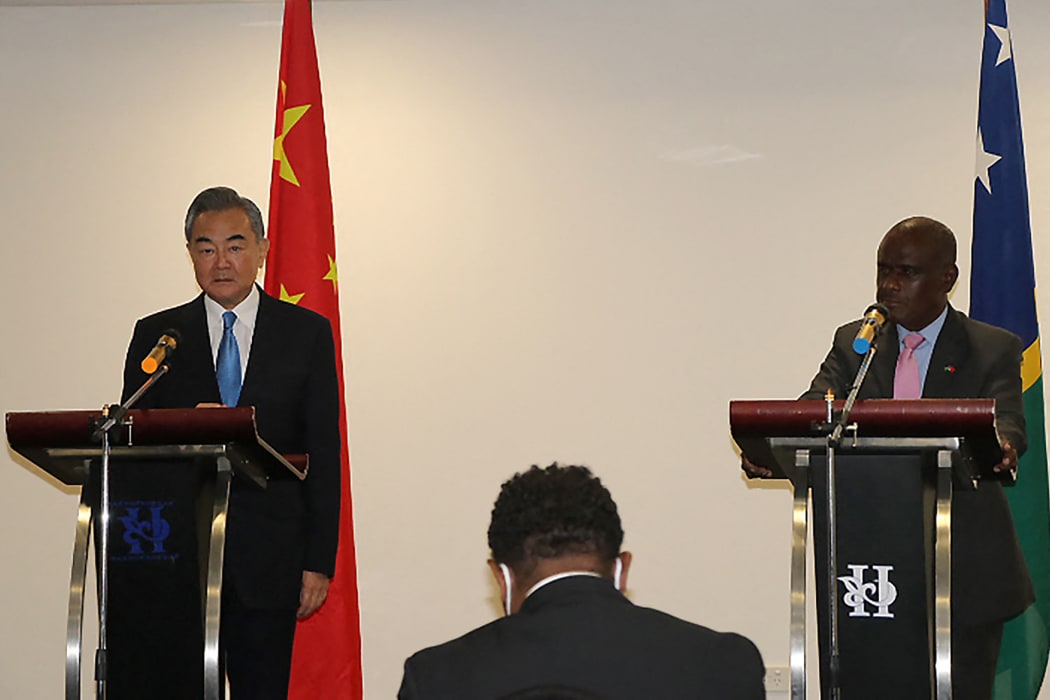 Chinese minister praises Honiara collaboration on Pacific Games
Chinese Foreign Minister Wang Yi has spoken highly of the nation's ties with Solomon Islands, with the countries working together to deliver infrastructure and prepare for the 2023 Pacific Games.
Wang met with Solomon Islands Foreign Minister Jeremiah Manele during the 77th session of the United Nations General Assembly.
Wang told Manele the past three years of cooperation since the diplomatic relations were formed has been beneficial for both countries.
Manele thanked China for its partnership and support of Solomin Islands in hosting the upcoming 2023 Pacific Games, scheduled from November 19 to December 2 next year.
He added that this support will help the country's infrastructure and change its national outlook.
The Athletes' Village for the Pacific Games is one of the buildings being created with China, as are the national hospitals.
Both nations are working together as part of the Belt and Road Initiative, a strategic infrastructure plan launched in 2013 in China, which has 149 countries signed up as of last month.
Athlete welfare, human rights in sport being discussed at forum
The Oceania Athletes' Commission Forum is underway in Fiji.
The fifth edition of the forum, which was set to be attended by members of 17 National Olympic committees, is being held at Pacific Harbour in Suva until Saturday.
Topics were to include information from the International Olympic Committee, athlete welfare opportunities and human rights in sport.
Chair of the Oceania National Olympic Committees (ONOC) Athletes Commission Karo Lelai said: "We have organised the forum into three components – information and planning sessions feature on the first two days and the final day has communications and media training which representatives requested as a priority through an online survey.
"The first day features information and reporting from the International Olympic Committee (IOC), the continental association which is the ONOC, and from the ONOC Athletes' Commission where I will be reporting back to athletes.
"The second day focuses on athlete welfare opportunities, which begin at international level but cascade down to continental or regional Oceania level, but need active Athletes' Commissions in countries to access and benefit athletes on the ground at National Federation level.
"It includes coverage of athlete safeguarding, human rights in sports, Olympic Solidarity Programme opportunities, protection of clean athletes which covers anti-doping, and information sessions from the World Olympians Association and the Pacific Games Council pointing to the Solomon Islands 2023 Pacific Games next year."
Opportunities for young Fijian rugby players
Fiji Rugby has named its Under-18 squad to tour New Zealand early next month.
The 27-strong squad is comprised of players who were part of the Skipper Cup Under-19 competition this season, and the Vodafone Dean Trophy.
Head coach Masi Saqanavere said the experience of playing quality opposition in foreign environments, with travel and other variables in the modern-day game, is the biggest objective which will grow his players in their development.
The Fijian Under-18 team flies to New Zealand on October 3.
Aussie plan to boost PNG cricket
Australia has launched an initiative to support cricket in Papua New Guinea.
Australian High Commission's deputy head of mission to PNG, Dr Joanne Loundes, said they were really looking forward to see a new crop of elite athletes come through the programme and win tournaments.
Cricket PNG CEO, Greg Campbell, who played four Tests and 12 one-dayers for Australia, said the initiative opens up many opportunities PNG Cricket had never had.
He said it will allow Australian coaches to come to PNG and offer coaching and training, and also allow PNG to tap into Australian resources when they travel there.