The queen of our imagination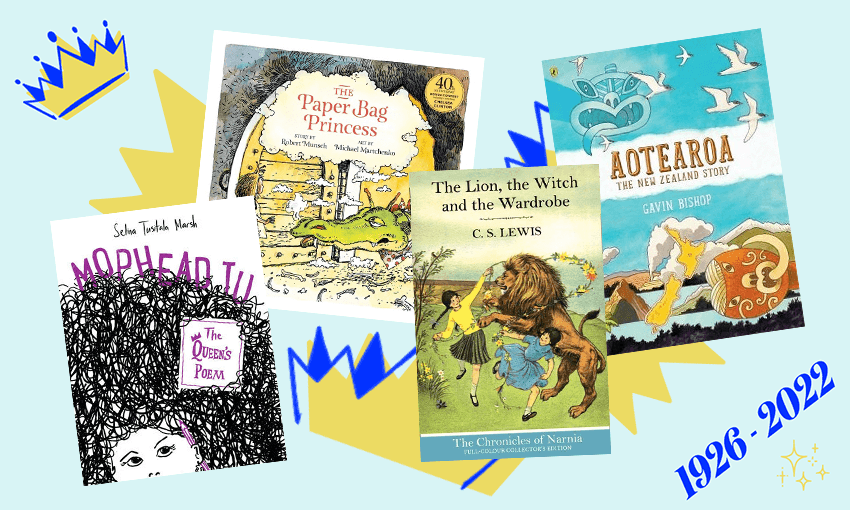 Books editor Claire Mabey on Queen Elizabeth II – and other famous queens – in children's literature.
My middle name is Elizabeth and when I was little I said that I was named after the Queen. That isn't at all true but it sounded about right to me then. I liked the idea of queens: in my books they were interesting, wore crowns, and in the BFG by Roald Dahl, Queen Elizabeth II was cool. She helped Sophie and the Big Friendly Giant rid the world of the Fleshlumpeater, and the Bloodbottler, and the Bonecruncher. 
The idea of a queen is embedded early. Through Disney, through fairy tales, through books. When you're small, and an everyday variety kind of kid, princesses in stories seem to lead exciting lives: they're locked up in fantastic castles, at risk of death from jealous relatives desperate for the throne, they have jewel encrusted knickers. Those royals occupy the space of fantasy and of allegory. They're either extremely good or extremely evil. The people's happiness always depends on who is on that throne.
My favourite royals were always the child monarchs of Narnia: Susan, Lucy, Peter and Edmund. In The Chronicles of Narnia, CS Lewis magics an escape from a real world ravaged by war, where children are displaced and powerless. To be a Queen of Narnia was to be a guardian on the side of the animals and magical creatures, of the fawns and the dryads, all the good parts of a place.
I could never help but associate Queen Elizabeth II with those queens of my imagination. She lived in an unreal realm: on coins, on TV, in paintings, in fiction. No matter how gnarly the reality got, how grown up the story, she seemed to perpetually exist in a castled, crowny world so removed from our own. Her life left a lot to the imagination. 
Regardless of the inevitable discourse that's going to follow over the next weeks, months, maybe years about the future of the monarchy, here is a list of children's books about queens in honour of Queen Elizabeth II – her mystique, her service, her storied life:
The Lion, the Witch and the Wardrobe by C. S. Lewis
The ultimate everychild turned guardian of a magical kingdom story. Complete with one of the best witches in literature and complex discourse on religion, freedom, and growing up.
The BFG by Roald Dahl
In this novel Queen Elizabeth II is portrayed as her typically stable self, calling for tea when orphan Sophie appears on her windowsill and informs her that there are child-munching giants pillaging her realm by night.
Mophead Tu: The Queen's Poem by Selina Tusitala Marsh
A book that creates a bridge between Aotearoa and Westminster through the inimitable style of Selina Tusitala Marsh. When Marsh is crowned Commonwealth Poet she is invited to perform for the Queen in Westminster Abbey. But when someone at work calls her a "sellout", Marsh starts doubting herself. Can she stand with her people who struggled against the Queen … and still serve the Queen?
Alice in Wonderland by Lewis Carroll
The Queen of Hearts! So dastardly, so energetic, so unhinged.
Two Weeks with the Queen by Morris Gleitzman
From legendary Australian writer, a powerful book about cancer and the hope of children … with a strong anti-royalist narrative. 
The Queen's Knickers by Nicholas Allan
But how does a queen choose which knickers to wear on which occasion? Bit of a classic.
The Paperbag Princess by Robert Munsch
A classic children's book published in 1980 in which Princess Elizabeth tames a dragon and flips expectations of how a Princess is supposed to behave.
Aotearoa: The New Zealand Story by Gavin Bishop
Typically stunning non-fiction contextualisation of the Queen's entry into Aotearoa … 
The Queen's Goat by Margaret Mahy
A young queen wants a goat. Too messy! Say her staff. She ignores them. Carmen the goat gives the Queen a wild old time.