The Unity Books bestseller chart for the week ending 25 November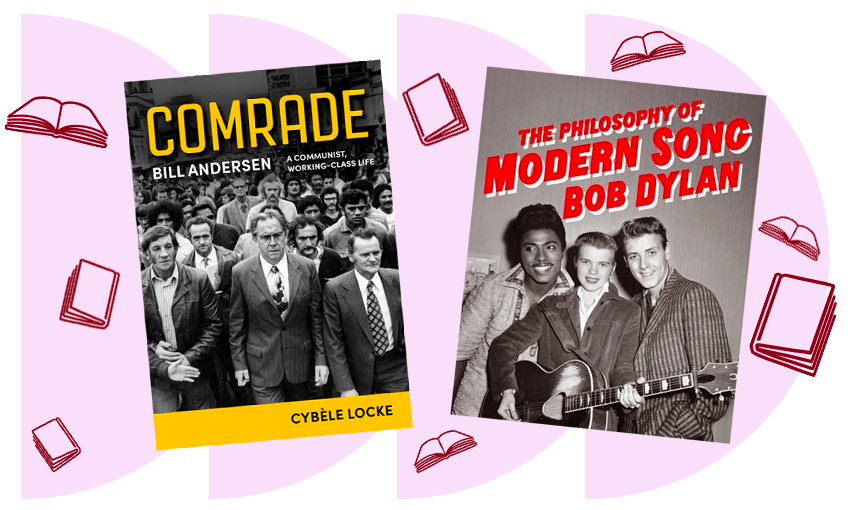 The only published and available best-selling indie book chart in New Zealand is the top 10 sales list recorded every week at Unity Books' stores in High St, Auckland, and Willis St, Wellington.
AUCKLAND
1  A History of New Zealand in 100 Objects by Jock Phillips (Penguin, $55)
The best new way to learn about our history: one fascinating object at a time. You couldn't find a more appropriate history buff Christmas present if you tried, so we expect this one to loiter happily on the list for quite some weeks.
2  Small Things Like These by Claire Keegan (Faber & Faber, $23)
"In the town of New Ross, chimneys threw out smoke which fell away and drifted off in hairy, drawn-out strings before dispersing along the quays, and soon the River Barrow, dark as stout, swelled up with rain.
"The people, for the most part, unhappily endured the weather: shop-keepers and tradesmen, men and women in the post office and the dole queue, the mart, the coffee shop and supermarket, the bingo hall, the pubs and the chipper all commented, in their own ways, on the cold and what rain had fallen, asking what was in it – and could there be something in it – for who could believe that there, again, was another raw-cold day?"
An absolute beauty, this novella. And so timely! It's set in 1985 (that's not the timely part) in the lead up to Christmas (that is). 
3  Straight Up by Ruby Tui (Allen & Unwin, $37)
Straight up, this is the memoir of the moment. 
4  The Seven Moons of Maali Almeida by Shehan Karunatilaka (Sort of Books, $37)
This year's Booker Prizewinner, and an absolute zany riot. Set in Sri Lanka's 1980s Civil War and narrated by a dead man on a quest, it's a novel the Guardian calls "compelling", "vivid" and "absurd." But that's not all: "Beneath the literary flourishes is a true and terrifying reality: the carnage of Sri Lanka's civil wars. Karunatilaka has done artistic justice to a terrible period in his country's history."
5  Lucy by the Sea by Elizabeth Strout (Viking, $37)
Our brilliant heroine Lucy Barton in lockdown. 
6  The Philosophy of Modern Song by Bob Dylan (Simon & Schuster, $60)
Bob Dylan's first book since winning the Nobel Prize for literature, brimming with over 60 essays about the nature of popular music and the human condition. Dylan's essays examine songs by artists including Elvis Costello, Nina Simone and Stephen Foster, and are accompanied by over 100 photographs. The New York Times says: "[The Philosophy of Modern Song] is less a rigorous study of craft than a series of rhapsodic observations on what gives great songs their power to fascinate us. Dylan … worked on these for more than a decade, though they flow more like extemporaneous sermons."
7  Wawata – Moon Dreaming: Daily Wisdom Guided by Hina, the Māori Moon by Hinemoa Elder (Penguin, $30)
The new book from the author of Aroha teaches us how to use the Māori moon as a guide. This from Jessica Hinerangi Thompson-Carr's review on the Spinoff: "There is a focus on female humour, and the power of the female body and sexuality, particularly under the Ōturu moon. I love how Elder recognises that our tūpuna could have a really good laugh about sex, whilst standing firm in their sexuality and fierce in their desires. She encourages us to carry this same confidence and good humour into our own modern day lives."
8  Kurangaituku by Whiti Hereaka (Huia Publishers, $35)
The traditional story of Hatupatu and the bird woman is told from two perspectives in this award-winning local novel. We loved it to bits. 
9  Build: An Unorthodox Guide to Making Things Worth Making by Tony Fadell (Bantam Press, $40)
Leisure reading for the entrepreneur in your life. 
10  Aroha: Māori Wisdom for a Contented Life Lived in Harmony with our Planet by Hinemoa Elder (Penguin Random House, $30)
Hinemoa Elder's bestselling book from 2020 is still a bestseller.
WELLINGTON
1  Comrade Bill Anderson: A Communist, Working-Class Life by Cybele Locke (Bridget Williams Books, $50)
Unity Books Wellington recently hosted the launch of Cybele Locke's new book, which is both a biography of significant trade unionist Bill Anderson and a history of socialism in the post-World War Two era. A morsel from the publisher's blurb: "The histories of working people, of organised labour, and of left-wing movements are too little told in Aotearoa New Zealand. Writing with insight and empathy, Cybele Locke has provided a highly readable account of a communist union leader navigating the social and political turmoil of the twentieth century."
2  The Seven Moons of Maali Almeida by Shehan Karunatilaka (Sort of Books, $37)
3  I'm Glad My Mom Died by Jennette McCurdy (Simon & Schuster, $45)
The page-turning celebrity memoir of the moment, by ex-child actor Jennette McCurdy. Reviewers have been more than pleased: "a triumph of the confessional genre", says the Atlantic. 
4  A History of New Zealand in 100 Objects by Jock Phillips (Penguin, $55)
5  The Philosophy of Modern Song by Bob Dylan (Simon & Schuster, $60)
6  The Passenger by Cormac McCarthy (Knopf, $50)
New fiction by the 89-year-old author of The Road and No Country for Old Men. Its companion novel, Stella Maris, is set to be published in just over a week as well. 
7  Demon Copperhead by Barbara Kingsolver (Faber & Faber UK, $37)
A retelling of David Copperfield by the wonderful Barbara Kingsolver. A snappy summary from the Financial Times: "Barbara Kingsolver's updating of David Copperfield — Dickens' most autobiographical novel — relocates the action to Appalachia to tell the story of an orphaned boy through the prism of the opioid crisis. While Kingsolver's moralising instincts are clear from the off, Demon Copperhead is nonetheless a vivid — and entertaining — portrait of modern America."
8  Wawata – Moon Dreaming: Daily Wisdom Guided by Hina, the Māori Moon by Hinemoa Elder (Penguin, $30)
9  Needles & Plastic: Flying Nun Records, 1981 – 1988 by Matthew Goody (Auckland University Press, $70)
A history of the famous Christchurch record company's turbulent early years. You can read an excerpt about all-female group Marie And The Atom right here on The Spinoff. 
10  Greta & Valdin by Rebecca K Reilly (Te Herenga Waka University Press, $35)
Recommended reading for fans of Greta & Valdin: these two Sunday Essays Rebecca K Reilly wrote for The Spinoff.