'Viva Magenta' color beauty products to channel Pantone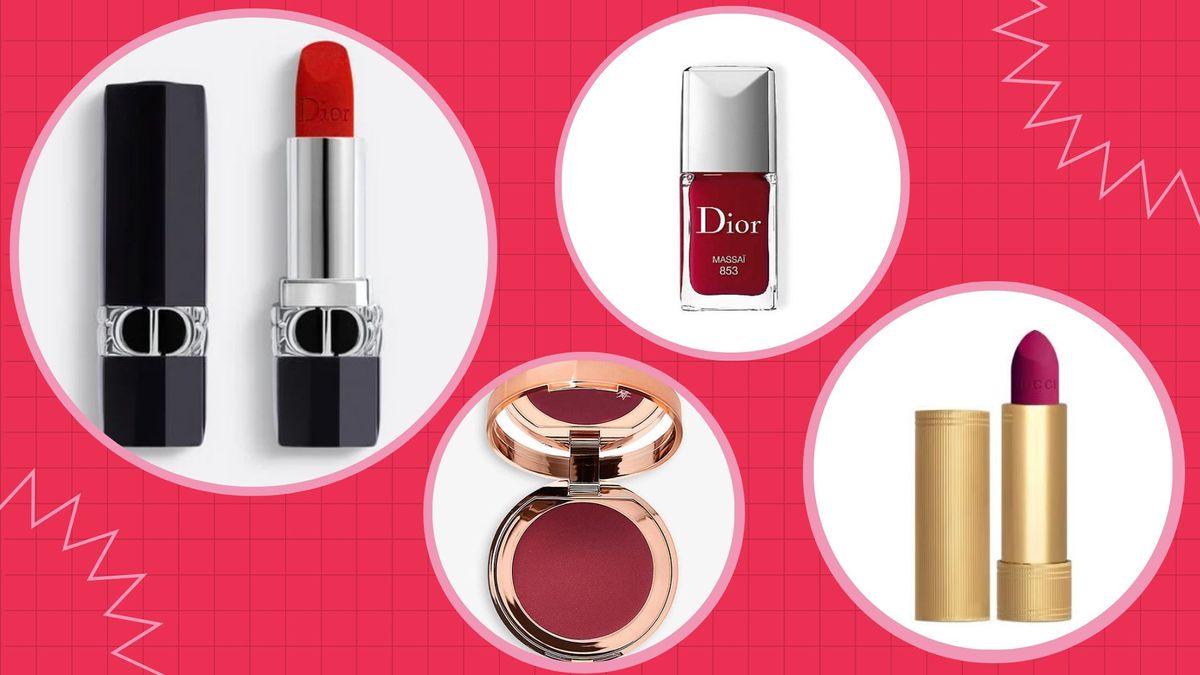 While we've been loving the natural 'Clean-Girl' Aesthetic makeup, Pantone has decided that 2023 calls for some bolder beauty looks, as they've named 'Viva Magenta' their color of the year. So, to reign in a season of red hues, we've rounded up all the best 'Viva Magenta' color beauty products—from matte magenta lipsticks and the best eyeshadow palettes to nail polishes…
While TikTok is obsessed with 'glazed' foundation and sunkissed blush makeup, the New Year might very well see a wave of red-themed looks taking center stage—whether it's bold, red eyeliner or a chic red lip, like Lily Collin's favorite lipstick for example.
This is thanks to Pantone dubbing shade 'Viva Magenta' (Shade: 18—1750) their color of the year for 2023. It's giving french-girl meets festive vibes and we're here for it.
So, to celebrate the new must-have dopamine dosing shade—here are the best magenta beauty finds to add to your beauty arsenal…
'Viva Magenta' color beauty products
While it is a very vibrant shade, don't be alarmed—you can actually work this shade into your everyday look, whether it's with your manicure or your makeup. You could even add a splash of magenta to your capsule wardrobe.
But before we dive into all our product recs, let's first break down exactly what part of the color wheel 'Viva Magenta' falls under.
First…is magenta pink or purple?
While the color magenta normally evokes thoughts of deep pinks and even purples, Pantone's 'Viva Magenta' is actually described as "a nuanced crimson tone." Basically, a perfect blend of pinks and purples, but is considered a variation of red. 
In Pantone's announcement (opens in new tab), they said: "Brave and fearless, [Viva Magenta] is a pulsating color whose exuberance promotes optimism and joy. Powerful and empowering, it is an animated red that encourages experimentation and self-expression without restraint; an electrifying, boundaryless shade." Now, that's quite the description!
The shade is also said to be a balance of warm and cool tones, meaning it's a shade that will compliment all skin tones—whether you have warmer undertones or colder, this red shade could become your new favorite lip shade!
Now, onto the fun part—let's talk Viva Magenta makeup…
'Viva Magenta' matte lipsticks
---
---
'Viva Magenta' nail polish
If you're not ready to ditch your natural, Vanilla-Girl makeup routine, you can always rep Pantone's 2023 color on your nails.
Though, if you're a die-hard fans of Hailey Bieber's nails, we understand that Viva Magenta might be a bit of a jump—but our motto is New Year-New Nails!
---
---
'Viva Magenta' makeup
And if you're looking to just incorporate the shade subtly into your makeup routine, why not opt for a Magenta eyeshadow palette, or a pink/red blush…
---
---